IN AN AMAZING COINCIDENCE, "BOOP! THE MUSICAL,"  THE FIRST MUSICAL EVER STAGED ABOUT BETTY, WILL OPEN ON NOVEMBER 19 IN CHICAGO ON ITS WAY TO BROADWAY.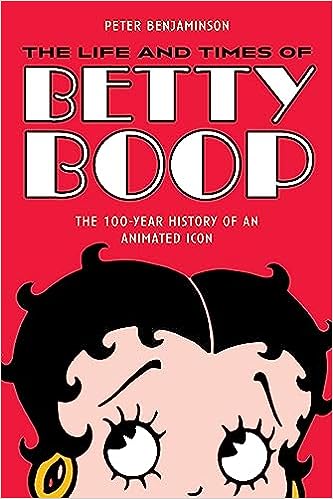 Peter's Betty Boop Book
Although Amazon.com is now selling more than 3,000 commercial products bearing Betty Boop's image, including calendars, tote bags, coffee mugs, and books about how young women can be more like Betty, no one has ever published a book about Betty herself.
The first biography of a major American cultural symbol ever written, The Life and Times of Betty Boop describes Betty Boop's incredibly active romantic and family life as revealed in her numerous comic strips, comic books, cartoons, and movies since 1930.
Award-winning author Peter Benjaminson details the creation of Betty Boop, based on two African American female entertainers who were the human models for Betty's character. He explores the many alterations of Betty's appearance, attitudes, and behavior over the years. Benjaminson also reveals the stories of the women who provided her with a speaking and singing voice, along with the backgrounds, intentions, and careers of Betty's numerous creators and animators.
The Life and Times of Betty Boop indulges in the controversies surrounding the character, including her adventures with Felix the Cat (a four-year daily comic strip production).
Benjaminson illuminates social trends that have kept Betty popular for nearly a century, including her recent transition from a helpless sex object to a feminist icon and her massive popularity with young American women.
Videos Now Available for Two of Peter's Other Books
Videos are now available for Super Freak: The Life of Rick James and Mary Wells: The Tumultuous Life of Motown's First Superstar at https://www.youtube.com/watch?v=9VaXKNCp-TE and https://www.youtube.com/watch?v=T07uoV9V6wE respectively.
Peter's Most Popular Book So Far is The Lost Supreme, The Life of Dreamgirl Florence Ballard, released by Chicago Review Press in 2009.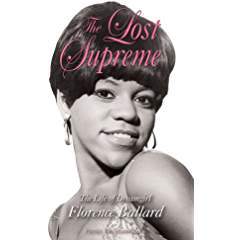 Celebrity Radio Host Loves Super Freak!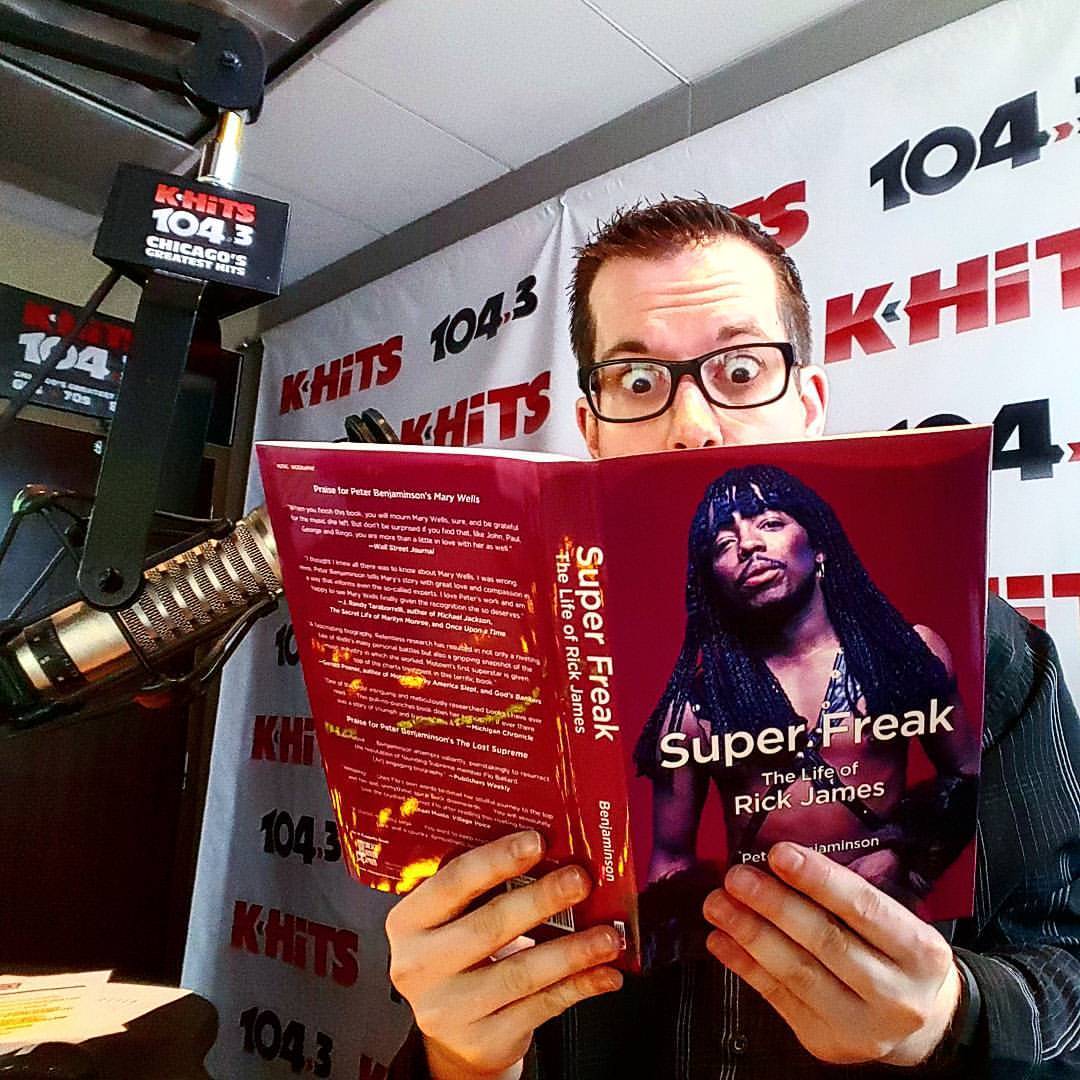 Humble and Fred Rick James Interview
PROMINENT RADIO HOSTS HUMBLE AND FRED allowed me to talk about Rick on their fabulous radio show on April 20. This was extremely appropriate, since H&F broadcast from Toronto, last week was Canadian Music Week and Rick was a Canadian musician for 14 years before heading south to Motown. Insert SuperFreak bit.ly/2pJ1Bzk in your brower to hear their whole show, and then, if you wish, fast forward to my part at the 1 hour-9 minute-58 second mark.
'SUPER FREAK,' RICK JAMES' BIOGRAPHY, RELEASED
Rick James played with Neil Young, self-produced his first album (later picked up by Motown), crossed rock and funk to come up with one of the best-selling albums of the 1980s, became one of the biggest pop stars of the era, turned a young white woman named Teena Marie into an R&B superstar, displayed an outrageously sex- and drug-filled lifestyle, was tried and found guilty of assaulting and imprisoning a young woman, went on to record new music that was compared to the Beatles' White Album, and ended his life as a punch line for Dave Chappelle.
James attempted to tell his own story—in two different books—but left out many incidents that showed who he really was. Now, based on court records, newspaper archives, and extensive interviews with dozens of family members, band members, friends, and lovers, here is the definitive biography of Motown's most controversial superstar.
The book is available in hardcover and kindle format on Amazon.com and at your local bookstore.
See reviews on "Super Freak" Page on this site.
Author Bio
Peter's latest book, THE LIFE AND TIMES OF BETTY BOOP: THE 100-YEAR HISTORY OF AN ANIMATED ICON, will be released by Applause Books on November 15, 2023. His previous book, CRAZY MAN, CRAZY: THE BILL HALEY STORY, which Peter co-wrote with Bill Haley Jr., was released by Backbeat Books in 2019. The new and revised edition of Peter's 1979 book THE STORY OF MOTOWN was released by Rare Bird Books in 2018. His previous book, SUPER FREAK: THE LIFE OF RICK JAMES, was released by Chicago Review Press in 2017. His book MARY WELLS: THE TUMULTUOUS LIFE OF MOTOWN'S FIRST SUPERSTAR, the first biography of Mary "My Guy" Wells ever written, was released in 2012, and his book THE LOST SUPREME: THE LIFE OF DREAMGIRL FLORENCE BALLARD was released in 2008.
Benjaminson was born in Washington, D.C., and was a reporter and City-County Bureau Chief for the DETROIT FREE PRESS from 1970-76. While at the Free Press, he wrote the book INVESTIGATIVE REPORTING, with David Anderson (Indiana University Press, 1976 and Iowa State University Press, 1990), the first how-to book in that field. It was in print for 20 years.
In 1979 he wrote THE STORY OF MOTOWN (New York: Grove Press), the first U.S. book ever written about the Motown Record Company. From 1979 to 1981 he was a reporter for the ATLANTA JOURNAL and the ATLANTA JOURNAL-CONSTITUTION. He taught journalism at Binghamton University, New York University, and Columbia University from 1981-91. In 1984, he wrote DEATH IN THE AFTERNOON: AMERICA'S NEWSPAPER GIANTS STRUGGLE FOR SURVIVAL (Andrews, McMeel) the first and only book ever written about the death of afternoon newspapers in America's big cities. In 1992, he wrote PUBLISH WITHOUT PERISHING (National Education Association and National Writers Union) and in 1997, SECRET POLICE: INSIDE THE NEW YORK CITY DEPARTMENT OF INVESTIGATION (Barricade Books).
From 1991-1994 he was the spokesman for the NYC Department of Investigation. He was Assistant Editor of THE CHIEF-LEADER newspaper in New York City from 1994-1998 and the spokesman for the NYC Correction Officers Benevolent Association from 1998-2003. In 2003 and 2009 he was the spokesman for Members for Change in NYC Teamsters Local 237.
He lives in New York City.
All OF PETER'S BOOKS ARE NOW AVAILABLE ON WWW.AMAZON.COM
Peter's four Motown books: (1) The Story of Motown; (2) Super Freak: The Life of Rick James; (3) Mary Wells: The Tumultuous Life of Motown's First Superstar; and (4) The Lost Supreme: The Life of Dreamgirl Florence Ballard are all now available on www.Amazon.com as are his previous books about journalism and investigations, his recent co-authored biography of Bill Haley and his upcoming The Life and Times of Betty Boop: The 100-Year History of An Animated Icon.